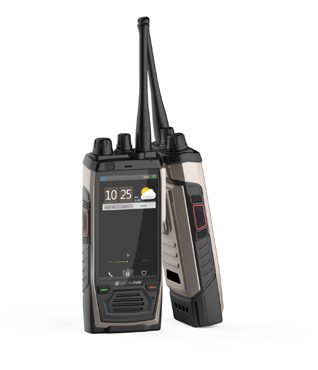 Het nieuwe Hytera doosje zoals deze week gespot op de CCW2016 in Amsterdam blijkt een mix van DMR en LTE(4G) mogelijkheden te bevatten. Hieronder wordt de NDP 950 van Neolink beschreven. Hoe de porto van Hytera gaat heten in nog niet duidelijk! Op de website van Neolink Communications Technology is er het volgende over te lezen:
NDP-950 professional intelligent interphone, equipped with customized secure intelligent operating system and compatible with the most popular Android operating system in the industry, is convenient to be used by the third party to develop APP application programs, suitable for customizing all kinds of exclusive applications for each industries. The system, adopting multiple safety and protection mechanisms, eliminates the safety problems perplexing the customers, suitable for departments that have high demand for confidentiality.
As the professional radio communication being transiting from analog mode to digital mode, the traditional wideband voice can't satisfy all the demands any more, and so the users also need broadband multimedia. ND—950, adopting modular design, is the first one that combines the narrowband and the wideband, and it not only supports the up-to-date DMR digital trunking but also is compatible with MPT analog trunking, with one of its voice group callings being able to immediately gain multiple responses; it also supports varieties of broadband modes, 3G/LTE/WiMAX, video transmission and data inquiry. WiFi/BT function boasts more abundant application.
NDP-950, supporting the Beidou navigation system independently developed by our country, satisfies the secure positioning and navigation needs of governmental users and is compatible with GPS navigation system, allowing users to select either of the two navigation systems according to their won demands.
IP57, whose defense level is sufficient to cope with all possible severe environments in the nature, is featured with 4-inch large touch screen and high-resolution photographing and camera shooting function, which enables it to collect and transmit the field video. NDP-950 meets all needs of users from such industries as army, public security, fire fight, armed police, airport, seaport and energy sources.
NDP-950, the release of which will open new radio informationization times, defines a brand-new professional intelligent interphone platform, and will customize hardware, software and application for users from all industries according to their needs.
Secure intelligent operating system: compatible with Android operating system and is convenient to be used to develop application programs; being with multiple security and protection mechanisms, eliminating the safety problems troubling the users
Combination of broadband and narrowband: 3G/LTE/Wimax/WiFi broadband is applicable for such businesses as data, image and video; DMR/MPT1327/Tetra/DMR narrowband is applicable for such businesses as command and dispatching, and operation instructions;
Effective combination of broadband and narrowband at terminal achieved
Beidou/GPS positioning, navigation and GIS command and dispatching supported
Professional three proofings IP67
Large-screen scrapping-resistant full-touch interphone: 4-inch scrapping-resistant capacitance touch screen
General specification:
Size dimension 162mm*74mm*35.2mm; weight 500g (4000mAh); battery capacity 4000mAh lithium-polymer; display screen 4.0-inch 480*854 gorilla scraping-resistant capacitance screen; application processor 1Ghz; operating system is compatible with Android 4.1; 2G network GSM/GPRS/EDGE 900/1800Mhz; 3G network TD-SCDMA 1880-1920 / 2010-~2025MHz; downward/upward rate downward rate being of 2.8Mbps/upward rate being of 2.2Mbps; camera 5 million pixels automatic-focusing; flashlight 2 in number; Beidou positioning/navigation supported; GPS positioning/navigation available; WiFi available; Bluetooth supported; level of protection being of IP67; operating temperature being of -20/55℃; vocoder type NVOC(712 )/AMBE++
Private network specification:
Private network operating mode: DMR digital trunking/DMR digital convention/MPT1327 analog trunking/analog convention/DMR digital convention; digital trunking function, and conforms to DMR technical specification ; transceiver index conforms to DMR technical specification; private network operating frequency band being of 350-390Mhz/400-470Mhz; 11 hours (analog)/12 hours (digital) for private conversation time (according to the mode of 9:5:5)
Standard configuration:
4000mAh; battery; earphone; charger; back clip; data line
Optional accessories:
3000mAh; battery; Bluetooth earphone/wired earphone; radio cameral; capacitor