Meer informatie vind je hier!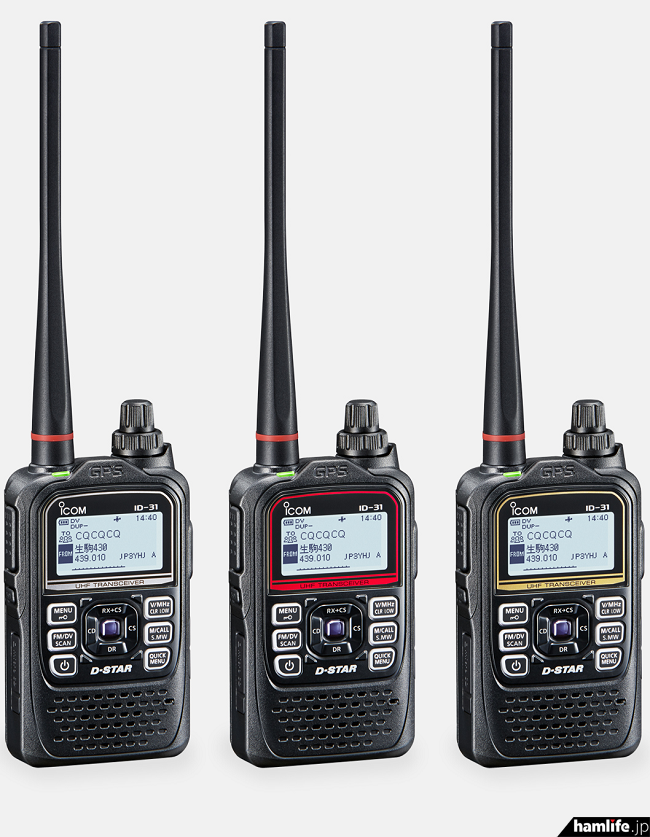 Release date Late August
Annual planned sales volume 3000 units
Product dimensions / weight 58 × 95 × 25.4 mm, about 220 g (including BP – 271 and antenna)
Icom Co., Ltd. (Headquarters: Osaka Hirano-ku, President: Masataka Harima) is, Windows ® PC or Android ® equipped with a mode that allows communication by connecting from the terminal to the Internet line, D-STAR ® corresponding amateur radio for digital We will release the transceiver ID-31PLUS from late August.
ID-31PLUS adds a number of functions while maintaining the compact size of the popular transceiver ID-31 compliant with the digital communication standard D-STAR ® recommended by the Japan Amateur Radio Association . It is a handy transceiver version upgraded for even more powerful enjoyment.
New functions such as "Terminal mode" and "Access point mode" that enable you to enjoy long distance communication via the D – STAR ® network even where there is no D – STAR ® repeater that can be accessed nearby , the function expansion application RS – Full feature support to MS1A, voice recorder function, etc. We equipped a number of new functions that make operation more comfortable and convenient. In addition, we are offering lineup of three color variations of silver, red and gold.
We will appeal to a wide range of amateur radio fans as the first hand touching amateur radio and the optimal handy transceiver as an introduction machine of D – STAR ® .
【Main features】
Access point mode with wider range of communication with new functions · Terminal mode *compatible, you can enjoy long distance communication via the D – STAR ® repeater network in the vicinity without a repeater.
※ Optional data communication cable and special application are required.
Communication setting is
equipped with easy DR function. You can communicate with the other party (repeater / personal station) by "To", by setting the nearest repeater to "From".
Sending and receiving of image and text is comfortable With cooperation with
Android ® terminal * , image and text can be sent and received. With DV – Fast mode, you can communicate data at 3.5 times the speed of normal DV mode. You can also use the DR function from the Android ® terminal. In addition, we built a quasi-zenith satellite "MICHIBIKI" compatible GPS receiver.
※ An optional data communication cable and dedicated application are required.
Waterproof, lightweight, compact and excellent mobility The
highest level IPX7 * Waterproof so you can operate it without worrying about rain or splashed water. It is ideal for carrying with the palm size that fits perfectly into your pocket.
※ Gently sink in a water bath (tap water at room temperature) with water depth of 1 m with the battery pack and antenna properly installed, leave it for 30 minutes, then take out it and function as a radio.
Three color variations A
new design that shines with one point color. You can choose from three colors of silver, gold and red.