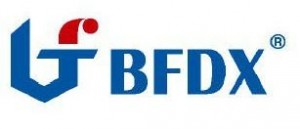 Door Hans PD0AC, Ham Radio Blog PD0AC
We knew BFDX already as a manufacturer of affordable DMR hand helds, and now a 30 Watt mobile radio popped up on the screen: the BFDX MT-7250. Grapevine Ham Radio sells this model for $329.99.
I find the number of channels/zones (160/50) a bit disappointing, but the price is right.
General Specifications

Frequency range
VHF: 136-174MHz, or
UHF: 350-390 MHz, or
UHF: 400-470 MHz, or
UHF: 450-520 MHz
Channel Capacity
160
Zones
50
Channel Spacing
12.5KHz
Voltage
DC 13.8V (±15%)
Frequency stability
±1.5ppm
Antenna impedance
50Ω
Dimensions
150(L)*160(W)*40(H)mm
Weight
1.29Kg
Transmitter
RF power output
VHF/UHF high power:30W
VHF/UHF low power:15W
4FSK Modulation
12.5kHz (only data):7K60FXD
12.5kHz (data and voice):7K60FXE
FM Modulation
12.5 kHz:8K50F3E
Modulation Limiting
+/- 2.5kHz @ 12.5kHz
FM Noise
-40dB
Conducted  Emission
-36 dBm≤1GHz/-30 dBm≥1GHz
Adjacent Channel Power
≤-60dB
Audio Response
+1/-3 dB
Audio Distortion
3%
Digital Voice coder Type
AMBE+2™
Receiver
Digital sensitivity
5% BER:0.25 uV
Analog sensitivity
0.25 uV (12 dB SINAD)
Inter-modulation
60dB
Adjacent Channel Selectivity
60 dB
Spurious Response Rejection
70 dB
FM Noise
-40dB
Audio Response
+1/-3 dB
Audio output
3W
Audio Distortion
3% (typical)
Conducted Spurious Emission
-57dBm
GPS Accuracy
Horizontal Accuracy≤-10m
(with well signal)
TTFF (Time To First Fix) Cold Start
< 1 minute(with well signal)
TTFF (Time To First Fix) Hot Start
< 10second(with well signal)
Environmental Specifications
Working Temperature
-20℃—+70℃
Storage Temperature
-40℃—+80℃
Humidity
MIL-STD-810C/D/E/F
Vibration & Shock
MIL-STD-810C/D/E/F